Namit Vijh, a distinguished professional in the hospitality sector, has embarked on a remarkable journey that spans 2 decades, showcasing his unwavering dedication and passion for the industry. With a career trajectory that reflects his commitment to excellence, he continues to leave an indelible mark as the Cluster General Manager at Radisson Hotel Group.
Experiencing Growth and Leadership:
Namit's journey began as a Taj Hospitality Trainee at Taj Hotels Resorts and Palaces, where he honed his skills and laid the foundation for his future success. Over the years, he continued to ascend the ladder of success, taking on roles of increasing responsibility at prominent hotel chains.
A Trailblazing Path: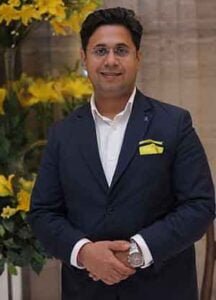 also read – Yogendra Singh Rawat: A Culinary Maestro's Journey to Namah Resort Jim Corbett as Executive Chef
Namit's dedication was evident during his tenure at Oberoi Hotels & Resorts as a Front Office Assistant. His commitment to providing exceptional service led him to The Imperial, where he excelled as an Assistant Manager Front Office. His journey led him to Hyatt Regency Delhi, where he showcased his leadership capabilities as a Lobby Manager.
Mastering Excellence:
Namit's pursuit of excellence took him to The Leela Palaces & Resorts as a Duty Manager, further strengthening his reputation as a capable and accomplished professional. This journey culminated in his role as an Assistant Front Office Manager at JW Marriott Mumbai Juhu, where he demonstrated his proficiency in managing operations and guest experiences.
Rising Through the Ranks:
also read –  Rajneesh Kumar: Pioneering Excellence – A Voyage of Hospitality Leadership
Namit's passion and drive were evident during his tenure at Courtyard by Marriott Mumbai, where he progressively climbed the ranks from Front Office Manager to Director of Rooms than he Joined Courtyard by Marriott Gurugram As Director of rooms. His transformative leadership extended to Ahmedabad and Kathmandu as he undertook taskforce roles at Courtyard by Marriott Ahmedabad and Fairfield by Marriott Kathmandu.
Pinnacle of Leadership:
Namit's journey led him to Marriott International, where he served as Director of Operations (GM Role) at Renaissance Hotel Lucknow. His unwavering commitment to excellence was showcased once again when he assumed the position of General Manager at Radisson Gurugram Udyog Vihar.
Cluster General Manager at Radisson Hotel Group:
also read – Celebrating 25 Years with Chef Atul Lahkar: Savoring Assam's Cultural Cuisine at Heritage Khorikaa
Namit's journey reached its pinnacle as he assumed the role of Cluster General Manager for Rajasthan & Agra at Radisson Hotel Group. His transformative leadership style and strategic acumen have played a pivotal role in shaping the hotel's success and contributing to the hospitality landscape.
A Legacy of Excellence:
Namit Vijh's journey is a testament to his dedication, passion, and tireless pursuit of excellence in the hospitality industry. His career trajectory serves as an inspiration to aspiring professionals, demonstrating the rewards that come with hard work, resilience, and a genuine commitment to guest satisfaction.
Looking Ahead:
As Namit Vijh continues to lead and innovate, his legacy as a visionary leader in the hospitality industry grows stronger. His story is a beacon of inspiration for individuals striving to make a meaningful impact in their chosen field, and his journey stands as a shining example of what can be achieved through unwavering determination and a passion for excellence.