Meet Mr. Rajiv Kapoor, a seasoned hospitality professional with over 22 years of domestic and international experience across leading brands. He currently holds the distinguished position of General Manager at the opulent and luxurious Fairmont Jaipur, one of India's most sought-after hotels. Let's delve into his remarkable journey and contributions to the hospitality industry.
Creating an Exceptional Guest Experience:
also read:- Amit Sidana's Rise in Sales & Marketing
One of Mr. Kapoor's significant contributions at Fairmont Jaipur is his unwavering focus on creating a truly exceptional guest experience. Every guest is treated like royalty, with no detail overlooked. From exquisite cuisine to immaculate rooms and amenities, he ensures that guests leave with unforgettable memories.
Awards and Accolades:
also read:- Anuj Soin: The Inspiring Rise of a Trailblazer in the Hospitality World
Under Mr. Kapoor's leadership, Fairmont Jaipur has received numerous awards and accolades, including the prestigious World Luxury Hotel Award and Rajasthan Best Employer Award Brand. His commitment to excellence has earned him recognition and admiration in the industry.
Exemplary Leadership and Motivation: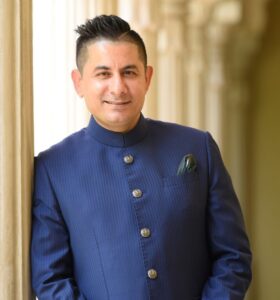 also read:- Dr. Jeffrey O: Embarking on an Inspiring Voyage in the Hospitality Sector
Known for his exceptional leadership skills, Mr. Kapoor motivates and inspires his team to achieve their best. He leads by example, putting the needs of guests and team members before his own. His colleagues and peers highly respect him for his leadership qualities.
Community Involvement:
also read:- Irfan Khan: A Certified Master Chef with a Passion for Gastronomical Adventures
Beyond his role at Fairmont Jaipur, Mr. Kapoor is deeply committed to giving back to the community. He actively supports charitable initiatives and collaborates with local organizations to promote education and health initiatives in the region.
 A Driving Force for Unforgettable Guest Experiences:
also read:- Mr. Sameer Sud: A Journey of Determination, Excellence, and Inspiring Leadership in Hospitality
In conclusion, Rajiv Kapoor is an exceptional General Manager whose dedication and commitment to providing the highest level of service have made Fairmont Jaipur a beacon of unforgettable hospitality. His visionary leadership, industry expertise, and passion inspire all who work with him. Mr. Kapoor is a true asset to the Fairmont family and a driving force behind the hotel's success in creating cherished moments for every guest.