Step into the captivating saga of Mr. Amit Sangwan, where success isn't just a milestone but an ever-evolving expedition of growth and enlightenment. Navigate the dynamic world of hospitality as his journey unfolds, showcasing an evolution from a Prep Cook to a Director of Outlets. Uncover a narrative woven with dedication, innovation, and leadership, painting a vivid picture of how continuous learning shapes a remarkable career. Join us in exploring the profound impact of consistency and the art of embracing change on the canvas of hospitality excellence.
Success is not the destination, but a continuous journey of growth and learning
also read – Ascending Front Office to Global Hospitality Stardom: The Remarkable Odyssey of Mr. Harpreet Vohra in the Hospitality Sector
In the dynamic world of hospitality, one individual has stood out with an extraordinary journey that exudes passion, dedication, and leadership. Meet Mr. Amit Sangwan, an embodiment of excellence and innovation, who has carved his path through the vibrant landscape of the hospitality industry.
A Legacy of Excellence
Mr. Amit Sangwan's journey began over two decades ago, with an unwavering determination to excel in every role he undertook. From his early days as a Prep Cook at TGI Fridays, his commitment and love for the culinary world were evident. This commitment paved the way for a series of accomplishments that would define his exceptional career.
A Steadfast Climb
also read – Mr. Anubhav Dubey: Visionary Founder of Chai Sutta Bar
Throughout his journey, Mr. Sangwan demonstrated an unquenchable thirst for growth. His tenure as an Operational Trainee at Marriott International allowed him to experience the heartbeat of the hospitality world, setting the stage for his ascent. As an F&B Associate and later as an F&B Supervisor, his dedication earned him recognition and admiration among colleagues.
Cultivating Excellence
Mr. Sangwan's journey of excellence and leadership continued to flourish during his time at Sheraton Hotels & Resorts, where he left an indelible mark as an F&B Supervisor. His contribution to Pan Asian Specialty Restaurant, Lounge Bar, and Bay Watch (All Day Dining) showcased his knack for understanding and enhancing the guest experience.
Rising to Prominence
also read – Championing Growth and Inclusion: Devendra Kumar's HR Odyssey at Crowne Plaza Today New Delhi Okhla
Marriott Welcome Hotel New Delhi became a canvas for Mr. Sangwan's artistic prowess. His role as an F&B Associate was marked by his ability to orchestrate seamless guest experiences, earning him respect and accolades from both guests and colleagues alike.
Elevating the Art of Beverage Management
His tenure as Bar & Beverage Manager at The Leela Palaces, Hotels and Resorts, Gurgaon, further solidified Mr. Sangwan's reputation as a trailblazer. Managing an extensive portfolio of over 800 labels, his strategies and innovations harmonized with the evolving market trends, setting new benchmarks in the industry.
As he joined the team at Rubicon, Pool Bar, and Diya (Indian Specialty Restaurant), Mr. Sangwan began to redefine excellence. His role as an Assistant Manager was underscored by his dedication to creating an environment that left an indelible mark on patrons, transforming their experiences into cherished memories.
Leading with Vision
also read – Rahul Panwar: Leading Novotel Pune to Excellence as a Seasoned Hotelier
With a passion that ignited like fire, Mr. Sangwan joined Pullman & Novotel Delhi Airport as the Director of Outlets. His leadership during the pre-opening phase, involving 670 keys, 11 F&B Outlets, and expansive banqueting facilities, was a testament to his ability to orchestrate and manage complexity with finesse.
Crowning Achievements
also read – Radisson Jodhpur Welcomes Chef Sadveer Shekhawat as Executive Chef
The recognition was not far behind, as accolades like the Delwine Jury Excellence Award and the prestigious BW Hotelier Award for F&B Manager of the Year (National) adorned his journey. These honors not only showcased Mr. Sangwan's dedication but also the profound impact he had made on the hospitality landscape.
Championing Leadership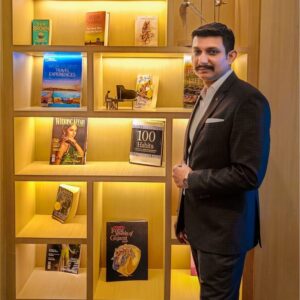 also read – Pankaj Gupta: A Visionary General Manager of Crowne Plaza New Delhi Mayur Vihar
In Mr. Amit Sangwan's journey, every experience has been a stepping-stone towards greatness. His dedication, passion, and unwavering commitment to excellence stand as a testament to the power of dreams and the heights that can be reached with perseverance. As he continues to lead and inspire, his journey remains a beacon of hope and aspiration for all those who dare to dream and pursue their passions. Mr. Sangwan humbly acknowledges that his journey has been blessed with the unwavering support of his family, mentors, and his personal "widget." According to him, consistency is the cornerstone of success in the hospitality industry, a belief that has been his guiding light throughout.