Mr. Sukhpreet Singh Bath's remarkable journey in the hospitality industry has been a testament to his dedication and expertise. With a career spanning over two decades, he has consistently displayed exceptional leadership and innovation, leaving a lasting impact on each role he undertook.
Current Role at Fairmont Jaipur: Director of Rooms (Aug 2022 – Present)
In his current role at Fairmont Jaipur, Mr. Bath has continued to elevate the guest experience, leading the Rooms division with excellence and acting Head of Operations. His visionary leadership and commitment to providing unparalleled service have contributed to Fairmont Jaipur's reputation as a premier destination.
Progression at Fairmont Hotels & Resorts: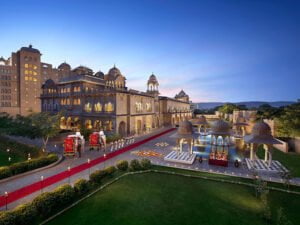 also read – Karim Abdelhamid: VP of Hotel Operations at The First Group – A Trailblazer in Hospitality Excellence and Innovation
Prior to his current position, Mr. Bath held pivotal roles at Fairmont Hotels & Resorts, including Rooms Division Manager & ALLSafe Officer (Jan 2022 – Aug 2022) and Front Office Manager (Aug 2019 – Dec 2021). During this period, he consistently championed safety measures and operational efficiency, setting new industry benchmarks.
Journey with JW Marriott:
Before his tenure with Fairmont, Mr. Bath contributed significantly to the success of JW Marriott. As Front Office Manager at JW Marriott Mussoorie he showcased his dedication to excellence and guest satisfaction (Jan 2019 – Jul 2019). His role as Assistant Front Office Manager at JW Marriott Mussoorie(Jan 2017 – Dec 2018) and Front Desk Manager at JW Marriott New Delhi Aerocity (Sep 2014 – Jan 2017) demonstrated his ability to lead and manage teams effectively.
Starting with The Oberoi Group:
His journey began at The Oberoi Group, where he served as a Step Associate (Jun 2006 – Jun 2009). During this period, he honed his skills and developed a foundation for his future success.
Elevating to Leela Kempinski Gurgaon- Now Leela Ambience
also read –  Radisson Hotel Group South Asia GM Namit Vijh's Path to Excellence
Moved as Team Leader in 2009 showcasing his exemplary guest handling and zeal to achieve the goals and got promoted twice within a span of 02 years and was a role model for aspiring Hoteliers.
Contributions to Hyatt Global Contact Center- Genpact
Mr. Bath's leadership extended to the global sphere during his time at Hyatt Global Contact Center (Jun 2012 – Sep 2014). There, he was handling centralized reservations for Hyatt Hotels & Resorts India and Singapore, showcasing his strategic thinking and adaptability on an international scale.
From Humble Beginnings to Hospitality Excellence :
Mr. Sukhpreet Singh Bath's inspiring journey from his initial role to becoming the Director of Rooms at Fairmont Jaipur reflects his unwavering commitment, versatility, and remarkable leadership. His extensive experience across prestigious establishments has not only shaped his career but has also left a lasting impression on the hospitality industry as a whole.