Sneha Agarwal is a well-known name in the hospitality industry in Ahmedabad, Gujarat. She is the founder and Director of The Hillock, a luxurious hotel located in the heart of Ahmedabad. Sneha's journey to becoming a successful hotelier is an inspiring one, marked by hard work, dedication, and a passion for hospitality.
Early Life and Education
also read – From Sales Officer to Senior Vice President
Sneha Agarwal was born and brought up in Rajkot, Gujarat. She completed her schooling from a local school and she studied economy and marketing from Mumbai University. She always had an interest in the hospitality industry, and after completing her Bachelor's degree, she decided to pursue a Master's degree in Hospitality Management from the Institute of Hotel Management, Ahmedabad.
Career in Hospitality
also read – Anuj Soin: The Inspiring Rise of a Trailblazer in the Hospitality World
After completing her education, Sneha started her career as a management trainee with the Taj Group of Hotels. She spent several years working in various departments, including front office, housekeeping, and food and beverage, before moving on to other hospitality companies. Over the years, Sneha gained valuable experience in the hospitality industry, learning the nuances of hotel management, guest relations, and operations.
Founding The Hillock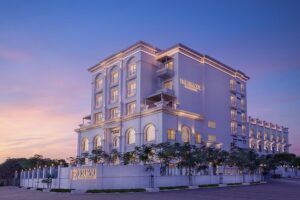 also read – Dr. Jeffrey O: Embarking on an Inspiring Voyage in the Hospitality Sector
In 2010, Sneha decided to start her own hotel, with the aim of providing guests with a luxurious and comfortable stay experience. She founded The Hillock, a premium hotel located in the heart of Ahmedabad, which quickly became a popular choice among both business and leisure travelers. The Hillock offers a range of luxurious amenities, including spacious rooms and suites, a fitness center, and a restaurant that serves a variety of cuisines. The hotel's staff is well-trained in hospitality and goes above and beyond to ensure that guests have a memorable stay.
Sneha's Vision for The Hillock
also read – Irfan Khan: A Certified Master Chef with a Passion for Gastronomical Adventures
Sneha's vision for The Hillock is to create a hotel that offers guests a memorable stay experience. She believes in providing guests with personalized attention and ensuring that their needs are met promptly. Sneha is constantly looking for ways to improve the hotel's services and amenities, and she invests heavily in the training and development of her staff. Sneha's dedication to hospitality has earned her several accolades over the years, including the prestigious "Young Entrepreneur Award" in 2017. She is also actively involved in various social initiatives and supports local charities and causes.
Making a Mark
also read – Anu Singh Bagal: Inspiring Success and Overcoming Challenges
Sneha Agarwal's journey to becoming a successful hotelier is an inspiring one. Her passion for hospitality and her commitment to providing guests with a memorable stay experience have made The Hillock one of the most popular hotels in Ahmedabad. Sneha's dedication and hard work have earned her the respect and admiration of her peers, and she continues to inspire young people to pursue their dreams in the hospitality industry.