Indu Khatri's career in the world of hospitality has been nothing short of remarkable. With a passion for sales and marketing, she has soared to great heights, leaving an indelible mark on the industry. As the Director of Sales & Marketing at Fairmont Jaipur, Indu Khatri's journey is an inspiring tale of dedication, determination, and success.
A Trailblazer at Fairmont Jaipur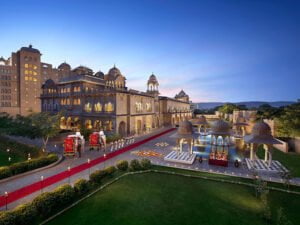 Indu Khatri assumed her role as Director of Sales & Marketing at Fairmont Jaipur in February 2021, and she's been making waves ever since. Her journey with Fairmont Jaipur has spanned over 5 years in two stints, during which she has displayed an impressive array of skills, including relationship building, digital marketing, financial accounting and business analysis.
In recognition of her outstanding contributions, she was honored as the "Sales Person of the Year" at the prestigious Hotelier India Awards in 2022. This accolade is a testament to her exceptional prowess in the field.
A Rising Star Across the Industry
Indu Khatri's journey to success didn't start at Fairmont Jaipur; it has been a cumulative effort across various renowned hotel brands. Prior to her current role, she served as the Commercial Head at Hilton Hotels & Resorts, where she played a pivotal role in the preopening and brand's success during her one-year tenure during challenging times of pandemic.
Before her time at Hilton, she was an integral part of the  Fairmont Jaipur, where she honed her skills and prepared for future challenges. Her journey through the hospitality industry has also seen her serve in significant roles at InterContinental Hotels Group (IHG®️) and The Leela Palaces, Hotels and Resorts as preopening sales team member and The Oberoi Group of hotels, where she consistently delivered exceptional results.
A Journey of Achievements
Throughout her career, Indu Khatri has consistently been recognized for her excellence in sales and marketing. In 2021, she was named "Sales Person of the Year" for ACCOR South Asia, further solidifying her reputation as a top performer in the industry.
She also received the "Rising Star: Power of 25 (Sales & Marketing)" award from Hotelier Web, a testament to her innovative and impactful contributions to the field.
A Legacy of Success
Indu Khatri's journey from a Catering Sales Executive to the Director of Sales & Marketing at Fairmont Jaipur is a testament to her unwavering dedication and continuous pursuit of excellence. Her career, which spans across various prestigious brands, is a source of inspiration for aspiring professionals in the hospitality industry.
As she continues to excel in her role at Fairmont Jaipur, Indu Khatri's journey reminds us that with passion, perseverance, and a commitment to excellence, anyone can achieve their dreams and leave an enduring legacy in their chosen field. Her story is a beacon of hope for those looking to carve their path to success in the dynamic world of hospitality.